Custom Christmas Postage Stamps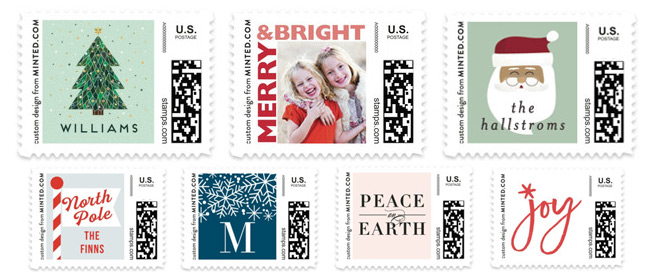 The USPS has authorized companies (such as Minted, Zazzle, etc.) to let people create custom stamps for holiday mail since 2004. These companies let you choose from thousands of Christmas-themed postage stamps or create your own using monogrammed initials, a family photo, etc. You could tailor the look and feel of the stamps and perfect your Christmas card by finishing it off with a custom stamp on the outside of your envelope.
Unfortunately the USPS ended their custom postage program in the summer of 2020 after 16 years of offering personalized postage. Companies such as Minted, Zazzle, and Shutterfly.com are no longer allowed to print custom postage for Christmas cards, weddings, birthdays, Hanukkah, etc. It is no longer possible to buy or create custom postage stamps (though there are many USPS holiday-themed postage stamps available).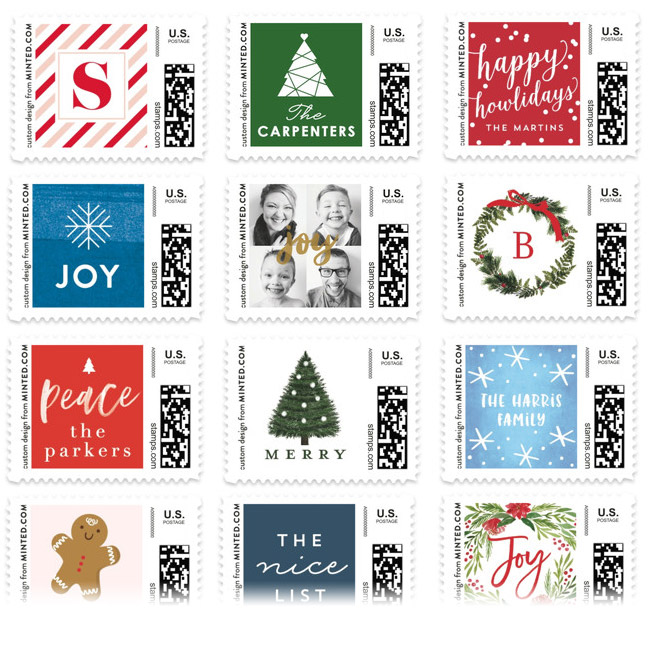 Minted offered over 3,000 different holiday-themed stamps (the largest selection anywhere) with a variety holiday themes such as Christmas trees, snowflakes, Santa and more. Talented, independent artists created beautiful designs that could be personalized with your text, initials, and photos. They were the perfect way to send your season's greetings in style to your family and friends and ensure that your holiday card stands out from the 3 billion pieces of holiday mail with custom postage.
We are sad that companies like Minted and Zazzle no longer offer custom Christmas postage stamps. We hate to see it end, and hope that in the future the USPS will reverse their decision to terminate the program so once again people can mail holiday cards and letters with personalized postage.
In lieu of that service, the USPS offers a number of Christmas-themed forever stamps. While these designs fall short of the personalization that custom postage offered couples, these holiday-themed stamps do let you add a festive touch to your holiday cards, letters, and other season's greetings.